NordicTrack Sleep Review
#logo-mark { transition: 1s; } svg:hover #logo-mark { fill: darkslateblue; }
UPDATE September, 2018: The Nordictrack Sleep mattress is on sale! The Nordictrack Sleep mattress prices are now Twin XL $2079 (can be used for KING Split for adjustable bases) Queen $2099 and King $2699. Sale prices for a limited time with savings up to $1,800. Free shipping.
OVERVIEW
Experience Smarter Sleep
The NordicTrack Sleep Mattress seeks to improve sleep patterns for a smarter, healthier lifestyle incorporating a cutting edge mattress design with it's iFit Sleep HR Sensor technology & smart app. Not only do you get a great mattress, comparable to the Tempurpedic Flex Breeze models, you are able to understand how you sleep by monitoring your nightly heart rate, body movements, breathing patterns, when you were in REM vs. light sleep and how many time you wake-up during the night –The part we loved is that you do not need to wear any tracker.
NordicTrack over the last few years entered the sleep scene with its iFit wearables and iFit Coach technology platform. Now it has a mattress to increase its presence in the sleep area. The company has embraced an overall well-being philosophy based on four pillars: activity, sleep, nutrition, and exercise workouts – incorporating this across all its products and technology.
NordicTrack's sleep answer is a 13" hybrid mattress combined with its iFit Sleep HR Sensor – a sophisticated specially designed sensor that simply slips under the mattress so you do not need to wear a tracker. The mattress is super comfortable and the app works smoothly to deliver a Sleep Score every morning so you can be at your peak self throughout the day.
Hybrid • Cool Memory Foam • FreshWake • Sleep Score
The NordicTrack Sleep mattress is designed to help recovery and improve your sleep. It consists of cool memory foam, micro coils encased in dual density foam and pocket coils for support. This hybrid mattress is comfortable with a springy, soft but supportive feel. You don't sink into this mattress, and when you lie down you feel both the hug of the memory foam plus the push back from the springs. It's nice.
We love the FreshWake™ feature that sets off your alarm at the lightest part of your sleep cycle during your set sleep time frame. You wake up feeling energized instead of coming out of a fog of deep sleep. If you are still in a deep sleep, unfortunately it will still wake you up so you won't get a late start to your day.
How? The mattress comes with the iFIt Sleep HR sensor and smart app to monitor heart rate, body movements, breathing patterns, and delivers your sleep score every morning to your phone. You can use the well presented detailed information to monitor and continuously make adjustments.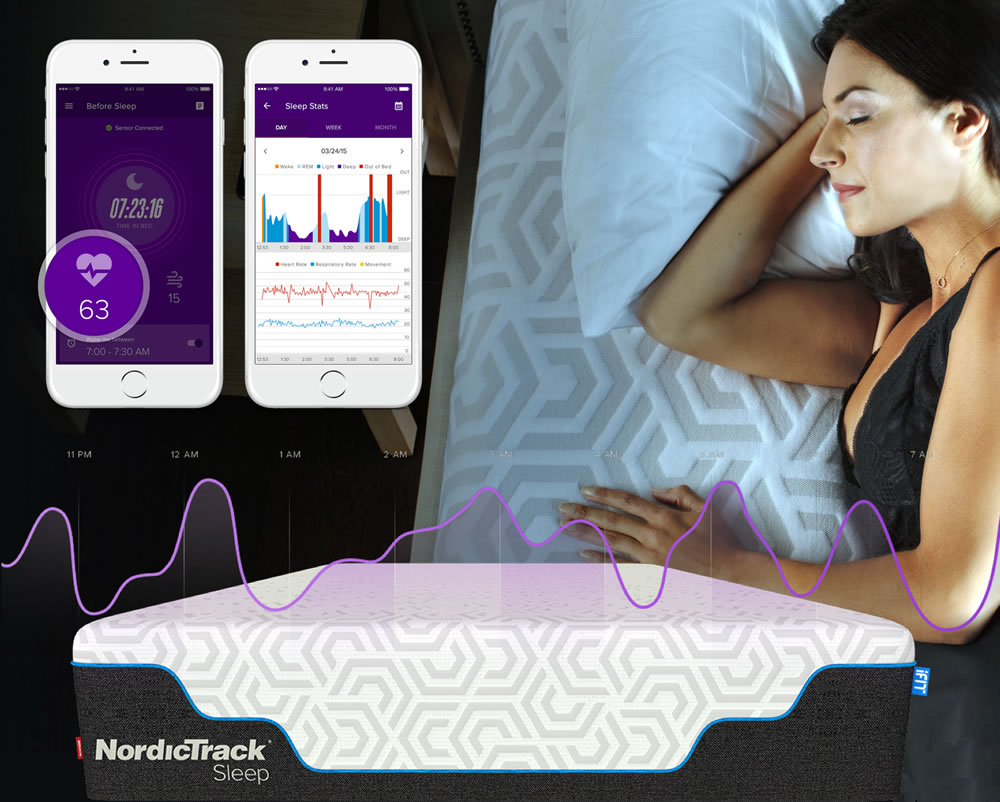 WHAT TO KNOW
This is a luxury mattress and is comparable to the Tempurpedic Flex Breeze models.
NordicTrack Sleep is a hybrid medium firm mattress made of gel memory foam, micro coils, and pocket coils. You can choose from 2 comfort options, Plush or Firm. Both have a little soft feel on top and a firmness of a 5, on a 10 point scale with 10 the firmest, for the plush option and a 6.5 for the firm option.
It has a height Profile of 13" high.
The iFit Sleep smart app displays to you the quality of your sleep based upon your actual rest. iFit Sleep app (Android and iOS mobile apps available) The iFit Sleep HR sensor technology tracks more than just how long you slept. It digs deeper to track the quality of your rest by monitoring your heart and respiratory rate, along with your nightly sleep patterns; when you went to sleep, when you awake, hours of deep REM sleep vs. light sleep; number of times you wake up, and more. What is cool is that you can decide how many hours you want to sleep and it will send a reminder to you when it is time to head for bed.
You can sleep on a Nordictrack Sleep mattress in your home for up to 100 nights. If you aren't satisfied, send your mattress back within 100 days (shipping included) for a refund.
The Nordictrack Sleep mattress comes with a 10 year warranty. The sleep sensors have a 1 year warranty.
- Free Shipping in the USA
- CertiPUR-US® Certified & OEKO-TEX® Standard 100 Certified
THE FEEL + UNDER THE COVER
The NordicTrack Sleep mattress has a luxurious, cushiony, airy feel. There is a bounce back responsiveness you feel as you lie on the mattress but you also feel a soft top.
This mattress has been well designed to give years of comfort and durability. There is little to no motion transfer so partners do not disturb each other when moving during the night. The memory foam provides pressure relief to reduce tossing and turning during the night so you sleep without waking.
Top layer is a comfort zone of two cool memory foams to provide support and pressure relief. Memory foam continues to outperform every other foam alternative with its superior combination of softness and stability. It has the number one satisfaction rating in popular consumer surveys. This combination of gel memory foams keeps it cool, soft and comfortable.
The second layer combines precision micro coils encased with dual density foam interlocking layers. The result of this cutting-edge engineering provides consistent, long-term comfort. These micro coils are scientifically proven to be more durable, maintaining their form and integrity longer than other materials while still providing a comfortable feel as the micro coils tilt and pivot to fit your body. This layer takes the NordicTrack Sleep mattress ahead of its competition like the Tempurpedic Flex models. It delivers a more durable and more comfortable sleep surface while providing sensors and an app to actually improve your sleep at a price competitive with the Tempurpedic Flex models.
Because of how the NordicTrack Sleep mattress is constructed it will deliver first-day comfort year after year.
The third layer consists of individually wrapped coils with foam edge casing to provide full edge to edge sleep surface and support. You won't feel like you are rolling off the mattress, the edge support is superior to the competition.
The NordicTrack Sleep mattress adapts and responds based on weight, height, and temperature so each person sleeping on it will have a personalized experience.
The NordicTrack Sleep mattress uses proprietary foams to keep the mattress cool and responsive, and uses two types specially designed coils to provide maximum comfort, support and durability.


It offers two comfort options Plush or Firm. Both have a supportive feel with a soft top. Best description is it's soft and either medium firm or firm at the same time.


The NordicTrack Sleep mattress comes with two sensors for each side of the bed that independently monitor you and your partner. Each sensor is simply tucked under the mattress and plugs into an outlet. The sensors automatically sync via Bluetooth to the iFit Sleep app to provide analysis and details for your sleep patterns each night.
Who Should buy the Sleep Mattress?
Those who like the feel of a Tempur-Flex Breeze Supreme but want to conveniently know more about their sleep and want a slightly more spring push back feel


People who want the huggy feel of a memory foam mattress but also want a spring feel as well so they don't have experience a " stuck in the mattress" feel


Individuals who want to monitor their sleep conveniently without having to wear a tracker and learn how to improve their sleep quality


Those who like soft feel on the top but also want a medium firm support.


People who want to relieve aches and want the pressure relief that memory foam provides but want to experience a cool sleep


Active individuals who lead busy lives and need their body to recover from workouts, stress, and daily activity.

SIZE
PRICE
Twin XL
$2,349
Queen
$3,349 ✓
King
$4,199
SO IN THE END ── Final thoughts
─ NordicTrack Sleep Mattress is a comfortable, supportive hybrid mattress that stays cool. The mattress does provide pressure relief and support for spinal alignment. The use of high quality materials keep motion transfer to a minimum and for those that like the feel of a traditional mattress this one has plenty of spring. The two layers of gel memory foam keep a nice soft hug feel but the mattress still delivers a push back feel from the micro coil layers. One thing to note is this mattress has good edge support for a consistent feel across the whole surface
This is a luxury mattress and the price reflects that. It is competitively priced against the Tempurpedic Flex models and delivers a lower price with a better product in terms of durability and a cooler feel. The mattress is well designed and made with quality materials that will provide durability for years. The iFit Sleep HR sensors and smart app is key if you want to improve your sleep and overall wellness. We think the mattress with the iFIt Sleep compliments a commitment to being fit and enjoying a healthy lifestyle by understanding your sleep patterns.
The NordicTrack Sleep mattress is a good purchase for anyone who wants/needs to improve their sleep using technology combined with a good mattress design. The detailed information gathered by the iFit Sleep sensor will clearly show your sleep patterns; when you are in rem vs. light sleep, when and how many time you wake up during the night, how you are breathing and recommendation for you can make adjustments to improve your rest.
| SCORE BREAKOUT | Points |
| --- | --- |
| OVERALL SCORE | 9.6 |
| Materials | 9.6 |
| Supportive | 9.6 |
| Comfort | 9.7 |
| Motion Transfer | 9.6 |
| Sleeps Cool | 9.5 |
| Service level | 9.5 |
| Price | 9.6 |