Whispering Angel Rosé Review
NOW ONE OF THE GREAT ROSÉ WINES
Whispering Angel by Chateau d'Esclans reportedly has become the world's greatest rosé. After this week's tasting we have to agree it is definitely one of our favorites.
Whispering Angel is a premium imported wine, more sophisticated and complex rosé than lower priced rosés but is ooooh so much more enjoyable, offering tremendous value for such a high quality bottle of wine.
We recently found the Caves d' Esclans Whispering Angel rosé at Costco with a decent price of $17.99. At this price a buy for summer so be sure to get a case before it sells out (it has done so every year so far – don't miss out). If you don't have a Costco nearby, you can buy Whispering Angel here. And for any party goers – you can pick-up a Whispering Angel Magnum here – and you will easily make friends on your arrival carrying in a chilled magnum or two.
UPDATE: We Spotted Whispering Angel at Whole Foods & The Fresh Market.
The French wine-producing region of Provence in southeast France makes some delicious and easy-drinking wines. Most of these wines are rosé – a dry, pale, pink style rosé . The climate is Mediterranean, with many of the vines planted on southern facing slopes to avoid the fierce winds.

WINE MAKER NOTES IN HIS WORDS:
"An irresistible pink! Charming, refreshing, refined, and with plenty of juicy, enticing, strawberry and berry fruit. This is a rosé that should be in everyone's cellars, without exception. Drinkable is an understatement and you'll keep on coming back for seconds."
— Patrick Leon
ABOUT THE WINE MAKERS
Both Sacha Lichine and Patrick Leon oversee the blending for Chateau d'Esclans and Caves d'esclans Whispering Angel wine.
PATRICK LÉON WINE MAKER
Patrick Léon has unparalleled experience in making the great wines of the world. Patrick, a Bordeaux native with an extensive education in Oenology as well as business management.
He worked with Baron Phillipe de Rothschild for over two decades starting in the 80's. Patrick's experience and knowledge has enabled him to be a consulting oenologist and work with Sacha Lichine to make serious Rosé wines while making Provence the leading rosé region of the world.
SACHA LICHINE OWNER & WINE MAKER
A pivotal moment for Sacha was his 2006 acquisition of Chateau d'Esclans in Provence. Sacha felt that Rosé had an opportunity to increase production and expand the market outside the region. He has built a world class brand with his Rosé collection of Whispering Angel, Chateau d'Esclans Rock Angel, Chateau d'Esclans Les Clans and Chateau d'Esclans Garrus. He has been recognized as a major contributor to the unprecedented growth in the Rosé category around the world. Even in France consumers have increased their consumption of Rosé over white wines!
OUR TAKE
Very fresh, fruity with citrus. Has a hint of tangerine and possibly watermelon. Deliciously dry to the end, dangerously good to drink – caution on a hot day when this Rosé Chilled is so easy to drink in the heat. But oh so fun! With a pale salmon color, Whispering Angel makes a pretty picture and is so refreshing you can drink it noon to night.
The 2017 vintage of Whispering Angel Rosé is the best Sacha Lichine & Patrick Leon have made to date at this price point.
The History of Chateau d'Esclans
Chateau d'Esclans is located on elevated land near the Gorges de Pennafort, northwest of the ancient Roman city of Frejus on the Mediterranean coast. The château is known for its old Grenache vines which produce grapes that offer greater concentration of flavor than do the younger vines. Some of the vines are over 90 years old.
The chateau dates back to Gaullist when it served as a lookout point to spot intruders coming by boat into the Gulf of Frejus. The original château—of which only the cellar remains—dates back to before the 12th century. The chateau's cellar foundation is the oldest in the region. The land was occupied as long as 2,500 years ago. The current chateau is inspired by Tuscan Villa design and was built during the mid-19th century.
Patrick Leon's secrets to making Whispering Angel
Château d'esclans harvesting takes place from sunrise to noon to avoid the heat of the day. During the harvest, grapes that are selected and picked are put in small crates in order to prevent grapes placed at the bottom of the crates from getting crushed. Caves d'Esclans Whispering Angel grapes are handpicked and mechanically harvested.
Once the grapes arrive to the cellars, they are sorted manually and then go through optical sorting. All grapes which go into vivification are perfectly de-stemmed and have each of the correct physical characteristics dictated by Patrick Leon including shape, size, color and condition. This is verified by an optical eye which is programmed to detect whether grapes 'make the grade'.
The Chateau d'Eclans Whispering Angel Rosé is not placed in oak barrels but instead into stainless steel tanks, kept chilled at every step.
FUN READ —Sacha Lichine's intriguing master plan
A year after Sacha Lichine purchased Chateau d'Eclans, he released 160,000 bottles of the first vintage of a cleverly-named rosé, Whispering Angel in time for summer sales.
This year, production for the 2017 vintage is expected to be 4.8 million bottles, made by grapes bought from surrounding vines. Lichen is in the process of buying a production facility in La Motte to ensure that number can go even higher.
America has been the engine of his success. Right from the start, he knew that repositioning rosé meant expanding exports. Today the château wines are 92% exported, compared to around 16% for Provence. In the States, where 800,000 cases of Provence rosé are imported annually, wines account for 20% of all Provence rosé sold in the U.S. Over 2.4 million bottles of Whispering Angel will be sold in the USA, more than half of the production.
So Patrick and Sacha set out to make an outstanding collection of Rosés that would be taken seriously as a year round wine to drink. They simply understand the category better than most, that rosé is a wine whose audience connects with having fun. Patrick Léon crafted a lighter style of rosé, fresh, clean, mineral with a white peach expression and very dry, not sweet. The style has been very closely maintained over the past 10 years, even as the grape sourcing has grown exponentially. The Rosé is unoaked, vinified in stainless steel tanks, kept chilled at every stage of the process and made from a blend of Grenache, Rolle, Cinsault and Syrah, all hand-harvested.
Sacha's Chateau D'Esclans Whispering Angel really started the ball rolling. Each year the winery has run out. Whispering Angel sales were 118,800 cases in the USA last year, and they should pass 200,000 in 2016 — it pays to hire one of the world's most talented winemakers, Patrick Leon.

Thank you, Sacha and Patrick for making Rosé a serious wine that we love to drink year round.
FUN FACT
Sugarfina's rosé gummies from their Rosé All Day Collection are infused with France's Whispering Angel. Cool pick-me-up in the afternoon during a long work day in the summer when the squad's already at happy hour.
Italian-Sausage Burgers with Garlicky Spinach
Total Time: 30 MIN Servings: 4
Contributed By Grace Parisi Food & Wine Photo © Stephanie Foley

INGREDIENTS
10 ounces baby spinach
2 tablespoons extra-virgin olive oil, plus more for brushing
2 garlic cloves, minced
Kosher Salt
1 pound sweet or hot Italian sausages or a combination of both, casings removed
4 slices of provolone cheese (optional)
¼ cup sun-dried-tomato pesto
4 round ciabatta rolls, split and toasted
You can top with grilled peppers and onions in place of the spinach for a different twist.
How to make this recipe
1. In a large skillet, bring ¼ inch of water to a boil. Add the spinach and cook, stirring, until just wilted, about 1 minute; drain and press out as much water as possible. Wipe out the skillet.
2. In the same skillet, heat the 2 tablespoons of olive oil until shimmering. Add the garlic and anchovy paste and cook over high heat, stirring, until fragrant, 1 minute. Add the spinach, season with salt and stir just until coated, about 10 seconds.
3. Light a grill or preheat a grill pan. Form the sausage meat into four 4-inch patties, about 3/4 inch thick. Brush the burgers with oil and grill over moderate heat until browned and crusty on the bottom, about 5 minutes. Flip and top with the cheese. Grill until the burgers are cooked through and the cheese is melted, about 5 minutes longer. Spread the pesto on the rolls. Top with the burgers and spinach and serve.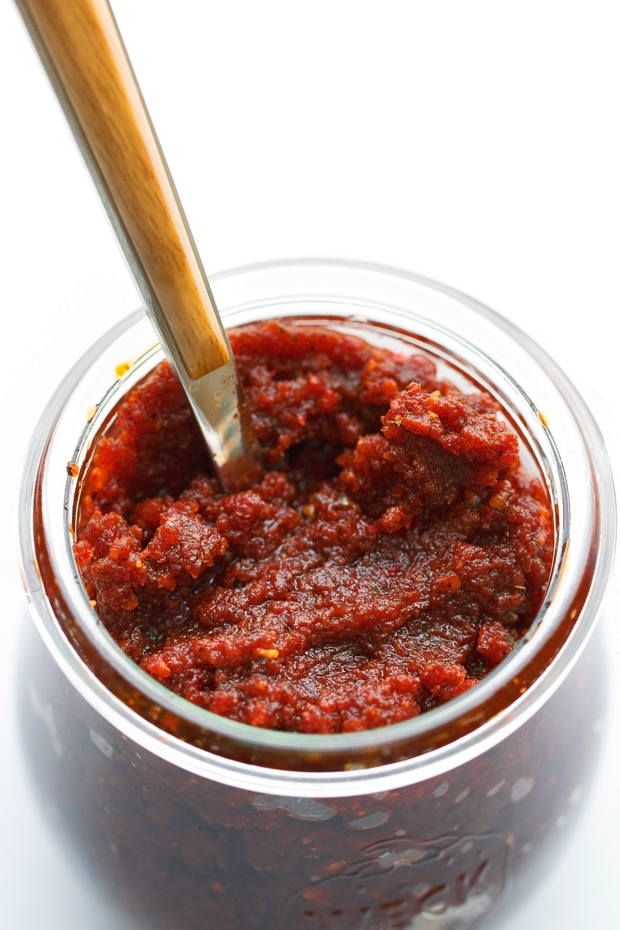 Sun-Dried Tomato Pesto
INGREDIENTS
1 cup firmly packed drained sun-dried tomatoes in oil (from two 8-ounce jars) or 2/3 cup dry-packed sun-dried tomatoes (1 ½ ounces)
2 large garlic cloves, minced
½ teaspoon finely chopped fresh
Oregano or ¼ teaspoon dried
¼ teaspoon salt
Pinch of crushed red pepper
¼ cup extra-virgin olive oil
¼ cup finely chopped fresh flat-leaf
Parsley
2 tablespoons freshly grated Pecorino, Asiago or Parmigiana cheese
How to make this recipe
1. Finely chop the oil-packed tomatoes. If using dry-packed tomatoes, place them in a small bowl with just enough hot water to cover until they soften, about 20 minutes. Drain them in a strainer set over a small bowl and squeeze out excess water; reserve the soaking liquid. Finely chop the tomatoes.
2. In a medium bowl, combine the tomatoes, garlic, oregano, salt and crushed red pepper. Add the olive oil and mix thoroughly with a wooden spoon. stir in ¼ cup of water or tomato soaking liquid. Just before serving, stir in the parsley and cheese.
Note: You can make this ahead and use with other dishes like spaghetti. The pesto can be refrigerated for up to 1 month; coat lightly with olive oil and cover tightly.
Grilled Scrimp Scampi
Photo © Food Network
Total Time: 20 min Servings: 4
INGREDIENTS
Shrimp
1 ½ lbs large shrimp, peeled and de-veined (tails left on or off)
3 lemons, sliced into thin half-moons (or wedges)
Garlic Parsley Butter
2 cloves garlic, minced
¼ cup light olive oil or 3 tablespoons butter
¼ cup lemon juice
3 tablespoons chopped fresh parsley
½ teaspoon kosher salt
¼ teaspoon freshly-ground black pepper
¼ teaspoon crushed red pepper flakes (optional)
PREPARATION
Prepare the Garlic Parsley Butter
Heat butter or oil in a saute pan over medium-high heat until melted. Add the garlic and saute for 2 minutes, or until fragrant. Remove from heat and stir in chopped fresh parsley and lemon juice.
Prepare the Skewers
Heat a grill to medium heat
Thread the shrimp and sliced lemons onto skewers. Brush with garlic sauce
Sprinkle evenly with salt, black pepper and crushed red peppers
Place on the grill for 3-4 minutes per side until the shrimp are pink and no longer opaque
Remove shrimp from the grill - squeeze the lemons over the shrimp. Serve immediately and enjoy!