Zenhaven Mattress Review
ZENHAVEN Mattress Review
Overview
Zenhaven went out their way to design a winning luxurious all-natural latex mattress, and they have. Handcrafted in America of 100% natural American Talalay latex, layered with breathable 100% organic New Zealand wool and wrapped in organic cotton, no detail has been overlooked with Zenhaven. Other natural latex mattresses would cost thousands of dollars more than Zenhaven, by shipping direct from the factory, Zenhaven delivers a high quality luxury latex mattress at a very attractive price, starting at $1,899 for a queen.
The cover is an eye-catching organic cotton with a gold and beige cord around the top and bottom providing a distinctive finished look. Although you buy this mattress online, it is not to be compared to the mattress in a box options, this is a luxury talalay latex mattress that is professionally delivered to your house, carried and set-up in your room. They will also take away your old mattress.
The Zenhaven mattress is unique in that it has two firmness options, on one side there is a Luxury Plush side or you can flip the mattress for a Gentle Firm feel. You tell the delivery team which side you would like to try out first. 80% of people will enjoy the plush firm side, so unless you know you like a firm feel, start with the plush side to begin your 120 night trial.

This mattress oozes a spa like feeling when you first lie on it, the cover's softness embraces and you feel the support as you drift off to sleep. Everything about the mattress suggests a spa experience is coming your way ─pampered, relaxed and mindful ─ it delivers big time. Once your Zenhaven mattress is set up, run your hand across the cover, it is really soft to the touch. You won't be able to wait to try it out, feeling it induces nap time. And as you stretch out down you feel a soft yet firm support as the mattress adjusts to your body. Just Amazing - our team loved it!
100% Talalay Latex • Natural • Made in the USA
TALALAY is the preferred latex for a mattress because of its reliable consistency and long-lasting benefits. It is a highly rated sleep surface for comfort and is eco-friendly.
Layers work to reduce movement, conform to your shape and relieve pressure. The Zenhaven Talalay Latex is hypoallergenic and resistant to mold and dust mites. It is made of renewable and eco-friendly sourced materials. The organic cotton and 100% Natural Latex combine for a luxury mattress you can feel good about buying.
The Zenhaven Mattress adjusts to your weight to keep your body & back properly aligned. It 'pushes back' up against you. It both supports curves while allowing for pressure point relief.
Zenhaven materials are sourced from the USA and 100% handcrafted in the US.
WHAT TO KNOW
Zenhaven has a proprietary 5 zone pinhole design that allows air to move around freely creating a cooler sleep environment. The hole size and position maximizes the right support for each area of your body for more comfort.
The Zenhaven mattress is naturally elastic and is designed to rebound back. You don't sleep in the mattress, you sleep on the mattress. This is very different from memory foam where you become part of the mattress. The mattress offers a springy feel, Talalay Latex is known for its buoyance. It lifts you up, without any feeling of sinking in.
The Zenhaven provides a Spa like sleep surface that may transform your life through deeper sleep and less aches when you wake.
The Zenhaven mattress is professionally delivered and set up in the room of your choice for free.
This mattress is designed with 2 different comfort levels. You get 2 sided options in one mattress A luxury Plush side or a Gentle Firm Side to choose from.
You have 120 days to decide if you want to keep the mattress. You only pay the original shipping fee if you want to return it, otherwise you receive a full refund. With a 120 days, you can take your time testing it ─ you may notice the mattress softens a little up over the first couple of weeks as it adjusts to your body ─ this is normal and expected.
The natural New Zealand organic sheep's wool helps to regulate temperature.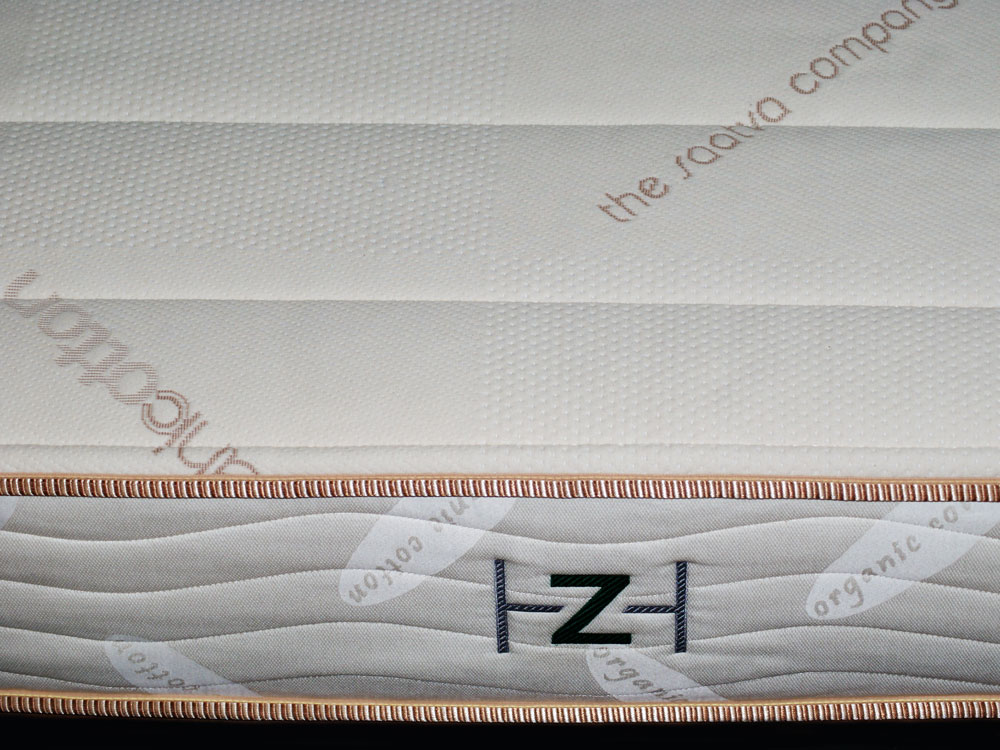 GOOD TO KNOW
Zenhaven is made by Saatva a leader in luxury mattresses for the last five years. They have rapidly grown from $30 million in sales per year to over $200 million. Their customer service is excellent, they will answer any question or help you solve any issue you may. Be confident in your purchase from Saatva, they do stand behind their mattresses and will work to make sure you are satisfied.
The Zenhaven mattress is flexible for tight turns and staircases because even after being folded it returns immediately to its original form because It is naturally elastic and designed to rebound back.
The Latex mattress popularity is rapidly growing and growing at a faster rate than memory foam. This is due to the facts that latex mattresses are durable, green, natural and comfortable like Zenhaven.
The Zenhaven Talalay Latex mattress has a very green story. It begins with a 5 year old tree which produces sap that can be extracted for up to 26 years and the rubber trees can be replenished.
Talalay Latex takes the shape of the body's natural curves helping to properly distribute body weight while at the same time reducing pressure. The latex will feel different to each person, which works well for couples who prefer different feels as the mattress will adjust to the weight and shape of the individual. So if you and your partner weights are different the latex will provide a comfortable sleep individualized for each of you.
GOOD Latex like the 100% Natural Talalay Latex Zenhaven uses is a natural, open-celled material with zones for additional airflow and proper support for each area of your body. The Zenhaven mattress sleeps cooler in the summer and warmer in the winter months.

It is naturally hypoallergenic - resists dust mites and mold, and mildew.
The mattress has 4 handles to assist moving, rotating or changing comfort levels.
Zenhaven stands apart from the other online mattresses. It has designed and produced a natural latex mattress with a green story including an organic cotton cover.
The quality of the Zenhaven mattress is unmatched in the latex mattress category. It is a clear winner. Zenhaven is a 100% natural latex mattress – there are no layers of polyfoam like so many of the other mattress options.
There are two comfort options in the Zenhaven mattress. You just flip the mattress to choose between Luxury Plush or Gentle firm. As you can see the Gentle Firm does not give as much as the Luxury Plush. The feels are very different in terms of firmness.
The mattress has a 20 year warranty. You have 120 nights to decide if you like the mattress or you can return for a refund, you only pay the initial delivery fee.
ZENHAVEN MATTRESS VS. THE COMPETITION
The Zenhaven mattress is the end product of a high quality design. It has been thoughtfully made to take advantage of the characteristics of natural latex. By using the direct from the factory model, Zenhaven is able to deliver a 100% natural latex at an affordable price for a luxury mattress. Zenhaven stands way above its competition and provides excellent customer care. It is easy to speak with a NON-COMMISSIONED, professional consultant, by chat or phone. They are immediately available to assist you.
Who Should buy a Zenhaven Mattress?
People who are looking to purchase a natural latex mattress should have Zenhaven at the top of their list to consider. The price is incredible for the mattress quality.
Those individuals who want a green, natural mattress will be happy with Zenhaven's commitments to the environment and the comfort for its customers.
People looking for a mattress that has bounce, not an enveloping feel like some memory foam. With the latex, you sleep on the mattress ─never in the mattress.
People looking for options ─ choose between Gentle Firm or Luxury Plush.
People looking for delivery assistance. The Zenhaven mattress is professional delivered and set-up in the room of choice.
THE FEEL + UNDER THE COVER
The Zenhaven cover is luxurious and soft to touch. The Luxury Plush side has a 6-7 on a firmness scale of 10. It's bouncy and has a quick response if you sit or lie down on it. You will immediate feel the support when you lie on the mattress, it will push up to meet the curves of your body. You feel your muscles relax as the mattress does the work to support you. This mattress has a very uplifting comfortable feel.
We highly recommend the Lineal™ Adjustable Base by Saatva for your Zenhaven mattress. Besides allowing you to raise the head or feet it comes with a full-body wave massage, head massage, or leg massage, each can be set to three different speeds, to complete your at home Spa experience with Zenhaven.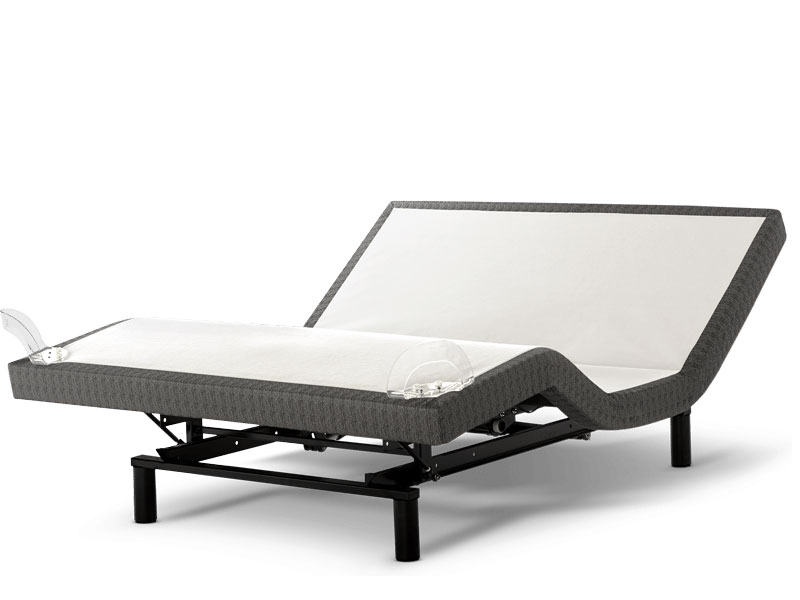 COMPLETE WITH BODY, HEAD OR LEG MASSAGE OPTIONS. YOU CAN RAISE YOUR FEET OR HEAD TO RIGHT POSITION.
The adjustable base is designed to work with the Zenhaven mattress and adds a whole new dimension to your sleep. Preset and customized settings glide Lineal™ into the ideal position for reading, working, and living. The motor is so quiet, you don't hear even a whisper of noise so you can adjust the base without disturbing your partner. Unlike many other adjustable bases, you can get a King size mattress and Lineal in one piece so you will not have to buy split mattresses. Cool as you don't have to feel like you're in the 60's where most couples had separate twin beds.
The Gentle Firm side of the Zenhaven mattress is about an 8 on the firmness scale of 10 being the firmest. About 20% of people find the extra firmness comfortable. It has the same bounce and soft cover as the Luxury Plush side.
SAVE THOUSANDS OF DOLLARS
The Zenhavan mattress is priced at a very attractive price for a luxury mattress that is 100% natural latex. Zenhaven cuts out the middle-man by shipping direct to your from the USA factory and passes the savings on to the customer.
| SIZE | PRICE |
| --- | --- |
| Twin | $1,299 |
| Twin XL | $1,349 |
| Full | $1,699 |
| Queen | $1,899✓ |
| King | $2,499 |
| Cal. King | $2,499 |
NIGHT CAP ── Final thoughts
100% Natural Latex with excellent customer care
─ Zenhaven is the mattress to buy if you are looking to make your sleep a spa experience or just want a high quality luxury latex mattress. Zenhaven is a mattress that provides a relaxing sleep surface that is trans formative, your muscles, curves and body weight are supported and lifted up by the 100% Talalay latex mattress, an epic feeling that promotes deep sleep.
| SCORE BREAKOUT | Points |
| --- | --- |
| OVERALL SCORE | 9.6 |
| Materials | 9.8 |
| Supportive | 9.7 |
| Comfort | 9.7 |
| Motion Transfer | 9.4 |
| Sleeps Cool | 9.5 |
| Service level | 9.0 |
| Price | 9.6 |