Gerard Bertrand 2017 Côte des roses Rosé
This week we found the Cote des Roses rosé at Target – WOW! super low price. Recommend – so go quick and buy a case before it is all gone. This is one to bring out on Memorial Day and every week-end this summer. On the shelf the wine catches attention because of its rose-shaped bottle. But when you open it – chilled of course – the wine is big, fresh and fruity, not too sweet, not too dry.
Cote des roses is the name of the coastal area near the typical village of Gruissan and is known for making great Rosés. A boon for winemakers making the Languedoc-Roussillon a land of extraordinary oenological potential and is home to the most diverse array of grape varieties in the world.
Gerard Bertrand
2017 cote des roses Rosé
WINE MAKER NOTES IN HIS WORDS
ABOUT THE WINE MAKER
Gerard Bertrand was born and raised in the South of France. Making wine with his father, Georges, since the age of 10, Gerard Bertrand creates a full range of wines from the region – red, white, rose, varietal, appellation, estate, still, sparkling, and dessert.
Committed to producing quality wines of great value, Gerard is hands on in every facet which bears his name. He has been fortunate to receive great accolades from reinforcing his dedication that his wines evoke the image and emotions from the South of France "Art de Vivre" – the "art of life."
OUR TAKE
We liked drinking this wine – refreshing and smooth. A rosé that is not too sweet, doesn't taste like a white zinfandel, and is not too dry. A very nice happy medium.
Opening this wine was also surprising – instead of a cork or screw cap there's a really well designed glass-cork stopper – literally a snap to open but also works well when re-corking – providing an excellent seal.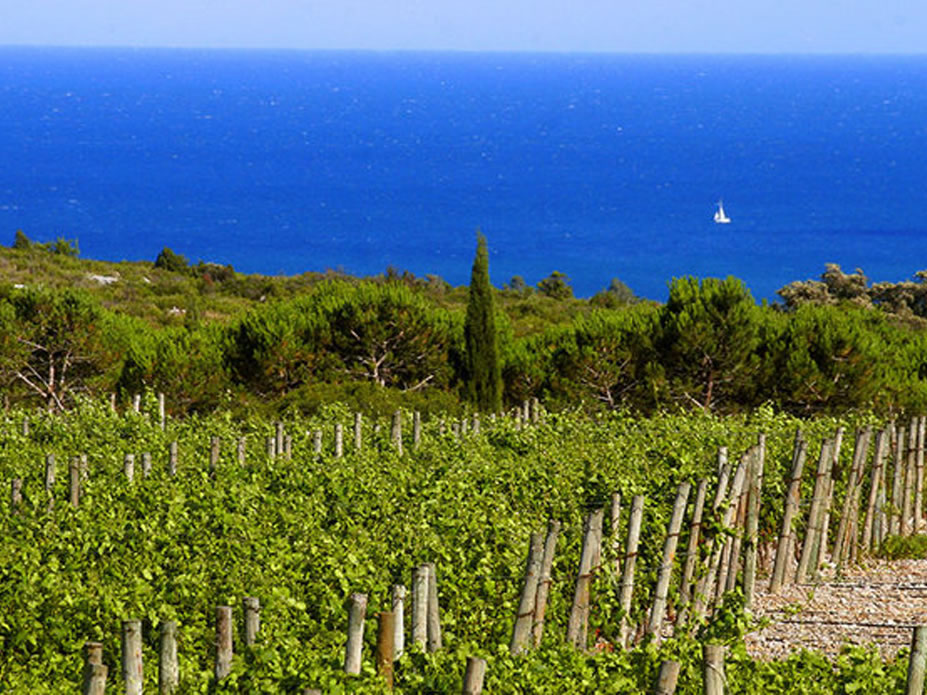 You can visit and even stay at Chateau
L'Hospitalet on the property
We like that Gerard and his team have put effort into their vision and created a symbol that reflects their values through the Gerard Bertrand's Coat of Arms. Here are the details:
The oval symbolizes unity, infinity, perfection, eternity. The cross with its four elements and its twelve points of the zodiac represents the perfect perpetual cycle of time and nature.
The red color symboloizes love, wealth, power, justice, the color of life and of the divine and the present, the color of the revolution and of transgression. It represents the values of conviviality, excellence, authenticity and innovation.
The doves drinking from the cup represent sharing and communion.
Alpha and Omega, the beginning and the end, reflect the cycle of nature which renews itself each year.
More importantly, Gerard Bertrand is committed to sustainability in France's Languedoc region through bio-dynamic farming focusing on producing organic wines.
FOOD PAIRINGS & RECIPES
The Cote des Roses rosé will pair well with all your sushi nights.
Mildly spicy food, antipasti and fish will all pair up nicely with this rosé. Try it out with chicken salad on a fresh French baguette with a chilled bottle of cote des roses rosé. Just Awesome.
CLASSIC CHICKEN SALAD RECIPE
INGREDIENTS
1 cup diced chicken

1 heaping tablespoon minced red onion

1 heaping tablespoon minced celery

2 teaspoons chopped fresh flat-leaf parsley

2 teaspoons freshly squeezed lemon juice

2 teaspoons mayonnaise

½ teaspoon Dijon mustard

Dash of hot sauce

Coarse salt and ground pepper, to taste
HOW TO PREPARE
1. Place all ingredients in a bowl; stir to combine.
2. For a whole-grain sandwich, layer your favorite whole-grain bread with
¼ cup baby greens (we used arugula) and chicken salad.
3. To serve on a bed of greens, place 2 cups mixed salad greens on a plate; spoon chicken salad over the top, and add 6 to 8 halved red seedless grapes.
Fun Fact
Gérard Bertrand, has been topping his crisp rosés off with glass stoppers (a glass-cork cap) an elegant addition to an already artistic bottle. The beautiful glass stopper adds a sophistication to the experience when drinking Cotes des roses. When you're dealing with rosés and whites that are best enjoyed young, the cork doesn't have much to offer. The glass stoppers make opening and keeping a bottle more fun. The seal is SO GOOD IN-FACT you can re-use the rose shaped bottle for your other summer beverages Cool!
Food Pair Recipe
Jamie Bissonnette of Food & Wine magazine has a simple recipe for a soy-honey-mustard sauce. It's delicious on the salmon here, but he also recommends it on chicken before grilling.
Try something different next happy hour with these RoséCocktails.
Cognac Rose Garden
4 ounces Gérard Bertrand Cote des Roses rosé
1.5 ounces Remy Martin VSOP
1.5 ounces fresh-squeezed grapefruit juice
1 teaspoon rose syrup
Splash of sparkling water
Grapefruit slice garnish
Directions
Fill a martini shaker with ice and add the Remy Martin VSOP, fresh-squeezed grapefruit juice, and rose syrup. Shake well to mix and chill, then strain into a wine glass. Add the Cote des Roses rosé, top with sparkling water (if desired), and serve.
LITTLE ROSE COCKTAIL
4 ounces Gérard Bertrand Cote des Roses rosé
1 ounce Bracero silver tequila
½ ounce Cointreau
1 teaspoon agave
Orange slice garnish
Directions
Fill a martini shaker with ice and add the Bracero silver tequila, Cointreau, and agave. Shake well to mix and chill, then strain into a wine glass. Add the Whispering Angel rosé and serve
Parisian Summer Sangria
1 bottle Gérard Bertrand Cote des roses rosé
2 cups white cranberry juice
1 small package raspberries
1 small package blackberries
1 nectarine
1 peach
*½ cup sugar - *optional
Directions:
Wash the fruit and slice the nectarine and peach into thin wedges. Combine all the fruit in a pitcher, followed by the Château de Campuget rosé and white cranberry juice. Serve immediately or chill overnight. Add sugar to sweeten if necessary.