Nordictrack Fusion CST vs. Bowflex HVT
DESIGN
To be fair, putting aesthetics aside, you can still get a good workout on the Bowflex HVT but we give the design edge to Nordictrack's Fusion CST. The Fusion design is a thing of beauty. Sleek, hi-tech, compact, cool looking. "It's designed, kinda like a piece of artwork" with a small footprint that will easily fit in most spaces and most importantly performs just as good as it looks.

Using silent magnetic resistance, the Fusion CST allows you to work out without disturbing others. It has an easy to read Watts display so you can see the power generated on every pull along with your heart rate. The Bowflex HVT offers a similar cardio and strength workout but has a larger footprint, is taller, and a little clunky. We have to say it – it is just not as well designed. The side bars combined with the platform are restricting plus the elevated platform is not so well thought-out, users complain they have to use duct tape or other adhesives to keep the platform surface from sliding around. It also uses a fan resistance approach which we found to be louder when in use. Bowflex should consider making the platform area longer. At only 5'10 when I did lunge type movements there was a tendency to step on to the edge which was distracting. Bottom line the design seems to restrict the ease, range and flow of movements you can perform when compared with the Fusion CST.
A Final Design Note – we really enjoyed the option to place the included 10 inch tablet on either the Fusion's base or use the adjustable freestanding holder that comes with it – so you do not have to keep looking backward during parts of a session.
WORKOUTS
Nordictrack wins big here too. The iFit Coach technology streams Fusion on-demand studio classes that keep you moving and motivated while at the same time provide proper form, flow and timing. The iFit training team's style keep workouts quick, challenging and varied, while the unique personality of individual trainers shines through in each class. Your trainer can adjust your resistance while coaching you through body-changing workouts, yet they keep it Super Fun!
Of course you can use the Fusion by yourself without the class and make your own up your own flows, movements with your preferred Resistance adjustments.

Workouts from Bowflex are presented in a more systematic, methodical, straight-forward fashion via short demos on their app or the included guidebook. For more class-style Bowflex HVT videos you can go YouTube. The Bowflex unit does come pre-loaded with 3 routines and instructs you when to begin, rest and counts downs the last 5 seconds. You get a workout, but with way less motivation, fun factor and variety. NordicTrack wins this category primarily because iFit Coach engages you and your body to get more out of your investment in time and money. Meet some of the iFit trainers – Click the short video below.
FLEXIBILITY
Because the Fusion CST does not have any side bars or platform, the range of moves is a lot more expansive and visibly less restrictive. Trainers really use this freedom to add in some great jumping, lunges and floor exercises to amp up the cardio. This adds more power to the workout and engages more muscle groups. The added space allows for a wider range of movement than the Bowflex HVT so the workouts include side to side and floor options. The Fusion also comes with lower cables for exercises with the included ankle straps. The workout options seem limitless. The Bowflex HVT is limited with its side bars and elevated platform – you still can get a good Cardio and Strength workout, but you don't have as many choices as the Fusion CST offers. We found iFit trainers are especially creative with the moves they include in their workouts to take advantage of everything you can do with the Fusion CST. This flexibility will keep your body interested and you from getting bored. This category is another win for the NordicTrack Fusion.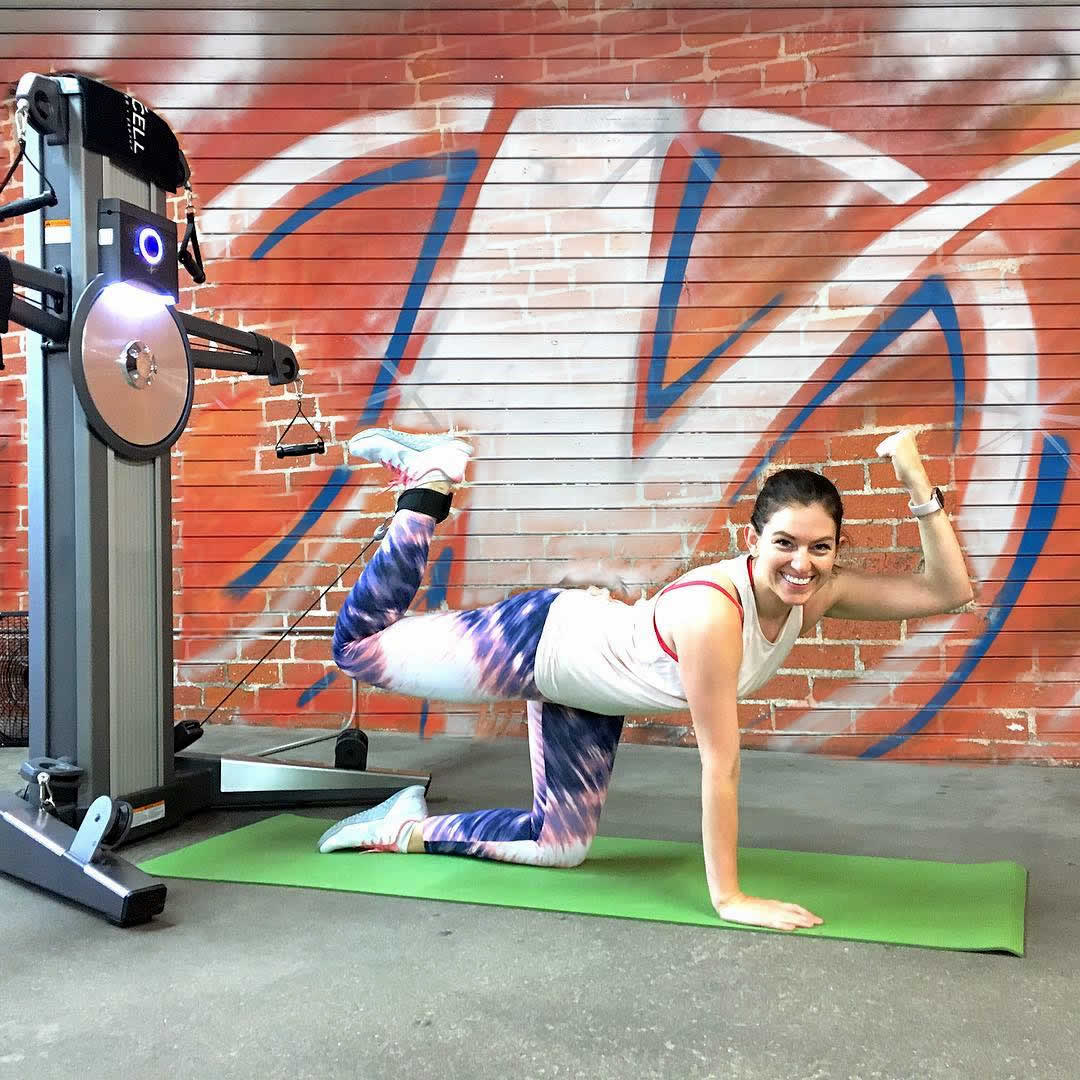 THE FUSION CST ABOVE SHOWS THE USE OF THE INCLUDED ANKLE STRAPS FOR CROSS-FIT/CORE EXERCISE OPTIONS.
MOTIVATION
Both the Bowflex HVT and the Nordictrack Fusion CST provide Cardio and Strength combined workouts. This is a great combination to get results in a shorter period of time. The integration of iFit tech with the Fusion allows trainers to control and adjust resistance automatically to match the class so it is keeps you challenged. You also get the power of the group motivation with the studio class workouts. These workouts were specifically designed for the Fusion CST owners – it is like you are at the gym motivated by everyone in the class but you are enjoying the convenience of a live session at home. The range of Fusion CST moves provide a higher level of motivation to stick with it – it's fun! and you will see results. A recent study conducted by NordicTrack showed Fusion CST users could lose on average 15 lbs in 12 weeks, when combined with a healthy diet. More importantly, participants loved the Fusion CST workouts – Checkout the quick video below.
PRICING
The Bowflex HVT is $799 with no tablet included, the Fusion CST from Nordictrack is $1,999 with a 10" detachable touchscreen tablet and includes a one year membership to iFit trainer led studio classes. (a $396 Value) We would recommend the Fusion CST for people looking to add a Cardio + Strength workouts to their fitness schedule – the iFit trainers and studio classes make it more challenging yet keep it fun and interesting which helps you come back for more. The streamed classes are particularity useful for those individuals who never worked out before, or do not feel confident they know how to workout, iFit Coach provides a ton of useful class selections and lets you set your own goals. For those advanced individuals there are plenty of classes that will challenge even the best. You can use your Fusion without a class to follow – it's totally up to you.
If you are deciding between the Bowflex HVT or the Nordictrack Fusion CST it is a hard decision as the two seem to offer the same type of workout. However, the Fusion CST has a superior design and offers over 100 different moves. The Studio Classes led by elite iFit trainers specifically designed workouts to challenge, motivate and get the most results out of your investment. These advantages makes the decision a little clearer for those that like a coach to guide them through a workout. If you can generate your own motivation and like to design your own workouts the Bowflex HVT will meet your needs as well.
FUSION CST VS. BOWFLEX HVT
Feature Comparison Chart
| | | |
| --- | --- | --- |
| | FUSION CST | BOWFLEX |
| WORKOUTS | Streamed Studio Classes | Demonstrations |
| TRAINING TYPE | Cardio & Strength | Hybrid Velocity |
| EXERCISE MOVES | 100+ | 50 |
| DIMENSIONS | 41.5" L x 59.4" W x 74" H | 65.6" L x 46" W x 83" H |
| VISUAL WORKOUT AID | Integrated App automatically adjusts resistance, Studio Classes | app to view 3 workouts & exercises. Full training guide-book |
| RESISTANCE LEVELS | 20 | 16 |
| TABLET INCLUDED | 10 inch | none |
| HEART RATE MONITOR | Yes | Yes |
| ANKLE STRAPS | Yes | No |
| MAGNETIC RESISTANCE | Silent | Yes |
| MECHANICS | enhanced inertia flywheel | progressive fan |
| WARRANTY | 10 year frame, 1-year parts & labor | 2 years frame, parts & 90 days labor |
| PULLIES | 4 (low, mid, and high levels + squats) | 3 (mid, high + squats) |
| DISPLAY | Watts, Heart Rate LED Display score, resistance | duration time, calories, power |
| PRICE | $1,999 - includes 1yr. of iFit ($396 Value) | $799 |
| SHIPPING | Free | Free |
SO IN THE END ── Final thoughts
At the end, you have to use your own judgment as to which one is best for you. If you want to add more cardio to your strength moves, you like group classes, and the idea of a coach to guide you through a workout, the Fusion CST is a better choice. If you don't want to move around as much, and focus on strength, the Bowflex HVT will work. With the Fusion CST you do get also get a freestanding adjustable stand to hold the tablet away from the base or optionally you can place it on the base unit. Additionally you get an extra pair lower cables with detachable ankle straps. And you do get a 10 inch smart tablet plus a great WATTS Display - which all said, makes us lean more towards the Fusion CST.
A SOLID WORKOUT BUT THE PLATFORM IS LIMITING & CAN BECOME AWKWARD WITH SOME EXERCISE MOVES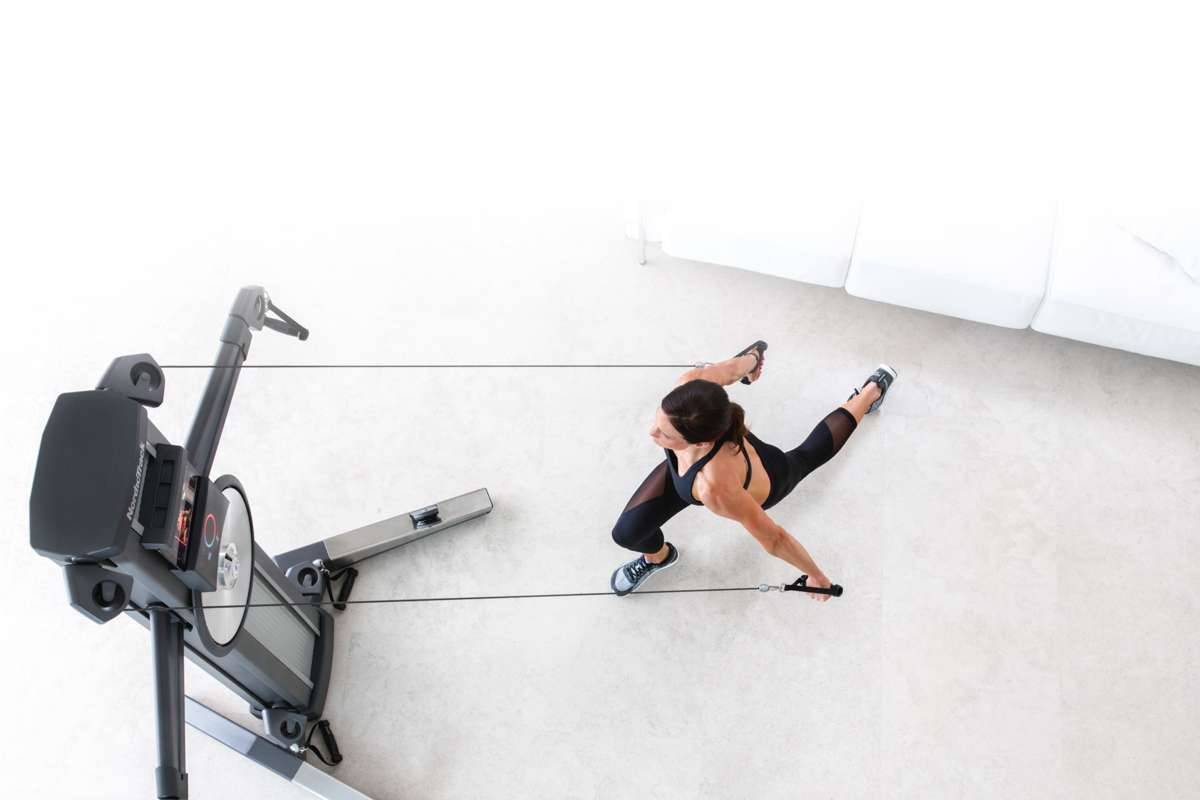 THE FUSION CST DESIGN OFFERS MORE CARDIO, MORE MOVEMENT